SRI MURUGAN SOCIETY OF ALBERTA
Worship of Lord Sri Murugan through the Hindu Temple dedicated to group of devotees of the almighty Lord Sri Murugan
OUR HISTORY

Sri Murugan Hindu Temple in Alberta
Foster, Promote and Perpetuate the growth of Hindu religious tradition
in the Province of Alberta
contact us

Hall & Class Room booking
The multi-purpose community hall located at the basement level can be reserved for a variety of activities
BOOK Now

Book for a special pooja
The Temple website provides the most up-to-date information on Events, Poojas, and Ceremonies.
BOOK FOR A POOJA

Help Us Reach Our Target By Donating
There are multiple ways to donate. Through this website, via our GoFundMe campaign and inperson at Temple.
Donate Now
We have only 3 rooms available for booking from Monday to Thursday. Currently, Weekends are fully booked-space is available for one-off workshops only.
Can be reserved for a variety of activities including cultural performances, social gathering, yoga/meditation workshops, seminars, and meetings.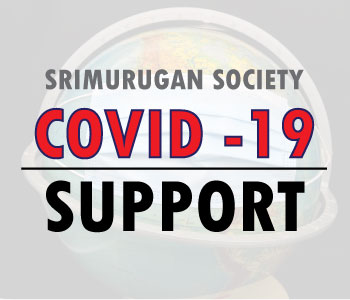 * In an effort to support the seniors of our community, Sri Murugan Society is providing assistance for chores like grocery shopping. If you are senior and have a shopping list that is approximately worth $100 or more, our volunteers will deliver it to your door within a week's timeframe. This is a free service for Alberta seniors who had lived within the Calgary area for the past 2 years or more.  Please email sms@albertamurugan.org, if you need assistance in this matter.
* Alberta Provincial Assessment prep classes (PAT) have moved to online via Zoom and Google classroom. The classes happen every Saturday 2-4 PM-only few spots are left. This service is completely free during the Health emergency declaration. 
* Regional language classes have also moved to an online delivery format.  This service is also completely free during the Health emergency declaration
* Unfortunately, STEM Teach Yourself Coding classes are on hold until the restrictions ease.
Please email sms@albertamurugan.org for further details.
The Sri Murugan Society of Alberta was founded in April 1994, to serve the religious needs and promote the spiritual wellbeing of a growing community of Hindus in Calgary and the surrounding areas. According to the By-laws of the Society, one of the primary objectives of the Society is to "foster, promote and perpetuate the worship of Lord Sri Murugan through the construction and maintenance of a temple" dedicated to the worship of Sri Murugan. The founders believed that Calgary is an ideal place for a Murugan temple as mountains are considered to be the preferred abode of Sri Murugan.
You can donate through ATB Cares Covid-19 Support.
This is your chance to give back to those who need it most. For the month of April, if you donate to an eligible Alberta charity of your choice through ATB Cares, they'll match 50% of your donation up to a maximum of $100,000.
https://atbcares.benevity.org/community/
To Donate, use the search bar in the above site and type "Sri Murugan Society of Alberta".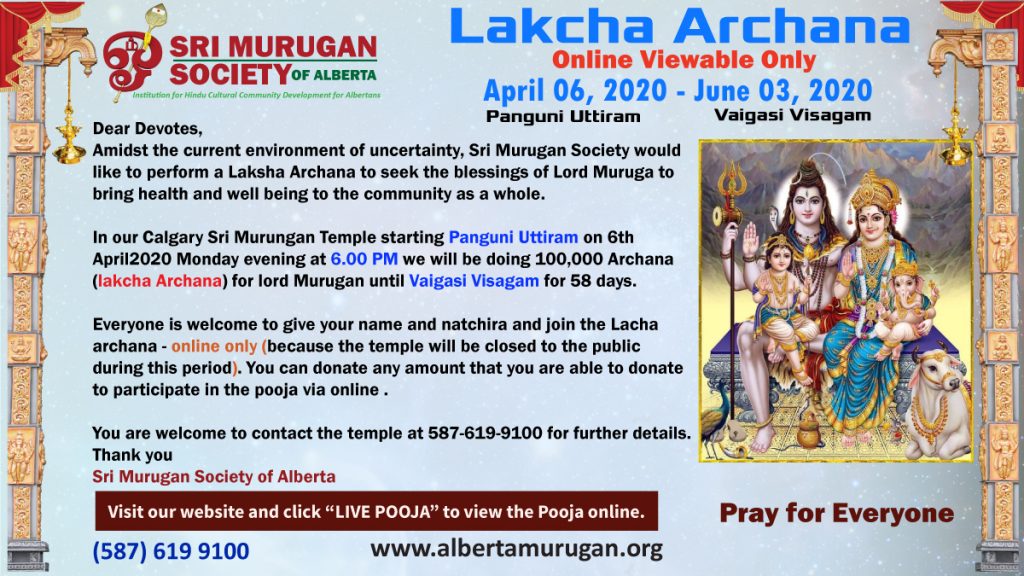 Our Temple and Cultural Center will be the place for all of your religious and cultural service needs. At the Temple, Special Abhisekams, Aarthis or Shaanthis can be performed with the highest religious standard. The main hall can be booked for special religious rituals, wedding ceremonies, bhajans and religious-cultural performances. Spacious lower hall, class rooms and the commercial kitchen are available for rent too. Religious services from our priest can be requested for rituals and ceremonies at your home, subject to the availability of the priest.
Special Pooja
At present, the Temple offers a verity of Pooja services to its devotees. Please check temple calendar or Contact US and to reserve your Pooja needs on your favorite dates.
Special Pooja services offered in temple

The Temple website provides the most up-to-date information on Events, Poojas, and Ceremonies.
Special Sponsored Poojas
Event Based Poojas

Weddings Services
Multi-purpose Community Hall
Located on the Wagon Wheel Blvd., Rocky View County, the Sri Murugan Society Building serves as a Centre for religious, cultural and social activities. The multi-purpose community hall located at the basement level can be reserved for a variety of activities.
Rental fees for the hall will be assessed on the rentee's requirement. Potential rentees are kindly requested to check the availability from our events calendar or by contacting our office.
Activities
Cultural performances
Yoga/fitness/meditation workshops
Seminars
Meetings
Socialization
Luncheon/dinner
Class Room Booking
We have three class rooms for rent. Class room #1 has a capacity of 16 (Junior students); 200 Sq.Ft. Class room #2 has a capacity of 12 (Junior students); 120 Sq.Ft. Class room #3 has a capacity of 16 (Senior students); 200 Sq.Ft.
Contact SMS and discuss more about charity discounts, long-term commitment discounts and discounts on bundled services.
Class Room #01

Class Room #02

Class Room #03
Temple Opening Hours
Morning
9.00-12.30
Pooja  12:00 NOON
Evening
5.30-8.30
Pooja   @ 7:00 PM